Brown Daily Herald
Immersive
In Fall 2019, I started the
Brown Daily Herald
's first AR/VR department. As editor, I brought together student developers, artists, filmmakers, and writers from Brown and RISD to experiment with the future of digital journalism.
We designed immersive experiences to supplement the paper's print and online publishing. Three AR activations and five 360° videos later, we learned how to adapt XR production to the fast-paced nature of news and lean on the unique affordances of AR and VR to improve the paper's storytelling.
Check out some of our pieces below. We earned retweets and attention from journalists at
The New York Times
,
Washington Post
, and more.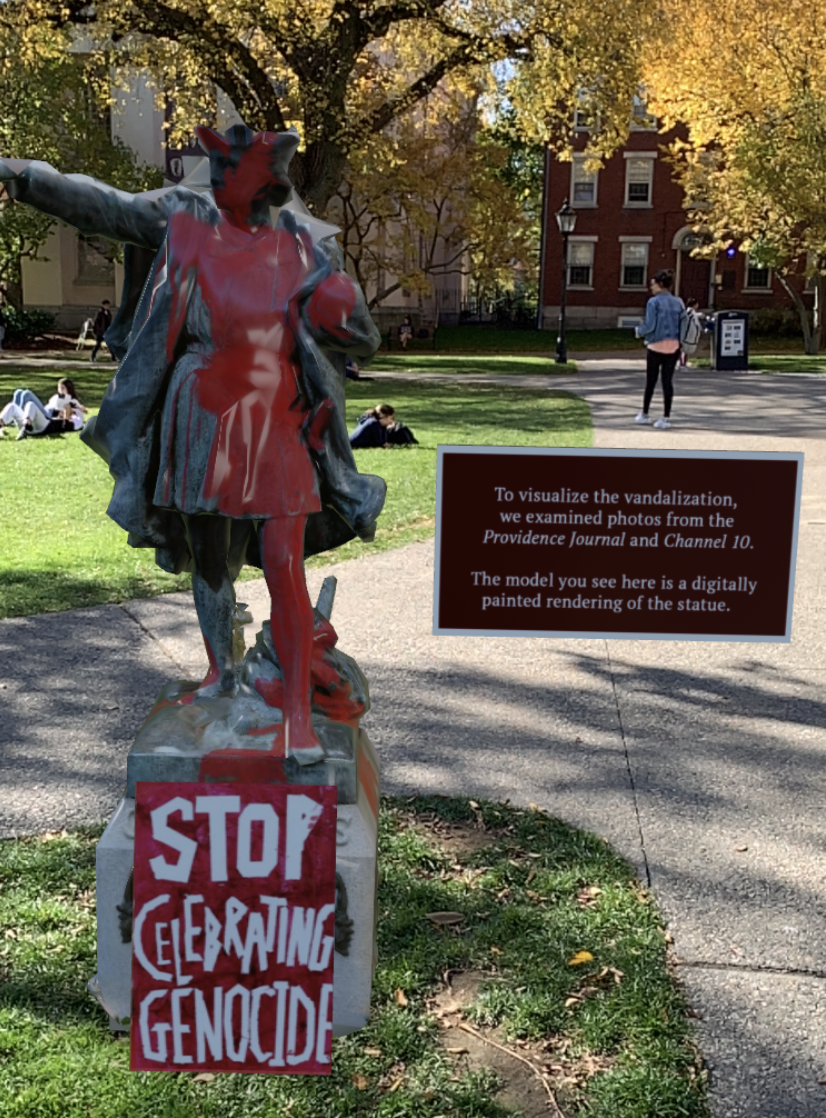 On Indigenous People's Day, vandals targeted Providence's statue of Christopher Columbus. After the city the red paint, The Herald visited the statue and captured it as a 3D model using photogrammetry.
We reviewed photographs from
The Providence Journal
and
Channel 10
as references for our own documentation of the vandalized structure. In Blender, we digitally painted the vandalism and signage on the model to restore the ephemeral paint and provide an archival documentation of the event for public knowledge and memory.
Three people contract rare EEE disease in Rhode Island

The Herald reported on the state's public health response to the outbreak of a mosquito-bourne illness. Our imaged-tracked AR experience superimposed a map of the critical risk areas in Rhode Island onto the front page of the newspaper via QR code. Excerpts from the print story populated in text boxes and 3D models of mosquitoes flew onto the paper, landing in the areas where Rhode Islanders had contracted the disease. I built the project in Zappar Studio and published to WebAR.

Our Editor-in-Chief shared the video on Twitter, and it raked in over 1,600 views. We received retweets from journalists at the New York Times, Washington Post, and influencers at USC Annenberg School of Journalism, the Augmented World Expo, and Zappar themselves.



Herald poll showcases student perspectives


We created a data visualization of poll responses from over 1,000. Brown students. We extruded each of the 2D graphs into 3D objects: bars and lines popped off the canvas. The 3D data story was accessible via image-tracked WebAR, which was activated by a QR code in the print paper. Users were prompted with four poll questions. When they tap on each box, the relevant augmented data populates on top of the newspaper. This simple interface lets users customize their experience and engage with the data in a more deliberate, individual way, instead of glossing over a gallery of four small 2D images.